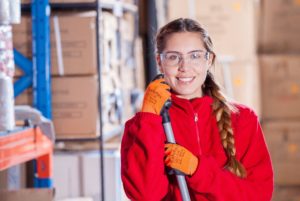 As Facility Managers, we contract with commercial cleaning services to make our spaces cleaner not dirtier. If your commercial office cleaning company isn't utilizing best practices like a color coded cleaning cloth system. They are putting you, your facility and your building occupants at risk for the complications of cross contamination.Would you want to know if your work surfaces are wiped down with the same rag used to clean the toilet? Or your break room floors are being mopped with dirty, germ-filled water? Not only is that icky and unsanitary but it could be happening to you.
Make Sure Your Service Uses A Color Coded Towel System
Insist that your janitorial services company use designated colored towels for specific tasks and areas. This easy to implement and easy to use system uses color-coded mop heads, buckets, rags, microfiber cloths' and other hand tools to designate what is used where in clear, easy to use and easy to track method. Within the professional cleaning industry, there are many advantages to developing and integrating color coding into your existing program, including to:
Control infection
Prevent cross-contamination
Differentiate for specific tasks or jobs
Identify between departments
Help bridge the language barrier
Simplify employee training.
Training Office Cleaners on the New Color Coded System
Typically, a small handful of colors are used to clean different departments in a facility or for specific tasks or jobs. Although there technically is not a "color standard" in the U.S., there are general trends that have emerged, which many have come to observe:
Red – Used in areas with a higher risk of cross-contamination and spread of infection — most commonly for cleaning restroom areas including toilets and urinals
Yellow -Used for cleaning objects and surfaces in rooms and lower risk areas of restrooms including sinks
Green -Used in areas where food is handled and prepared
Blue- Used in lower risk areas such as common areas and for general purpose cleaning of surfaces such as glass and mirrors.
Other colors can be used in place of or in addition to the aforementioned colors, including pink, orange, purple, and grey, black and white. When implementing your color-coded program, you may want to consider matching the color of your towels and cloths, rags and mops with the color of the chemicals or bottles you are using to clean. For instance, if you are cleaning windows using a blue spray bottle, consider matching them up with blue cloths. Color coded towels and cloths can even offer employees a sense of responsibility and engagement by enlisting them in the fight to safeguard the health of your facility's occupants.
Color Coded Cleaning Towels System Is a Powerful Management Tool
The Managerial advantages inherent in switching to color-coded towels have some hidden benefits. Using specific colors can make it easier for supervisors to monitor employees and make sure they are cleaning correctly. Building services contractors can get an accurate picture of want is going on in the building when laundering the cloths and mop heads. For example, if twenty clean mop heads are typically used to clean a building and now there are only 8 mop heads to wash, supervisors will know either map heads aren't being changed often enough or that area is being cleaned less frequently.
Set your Facility Up for Success
Color-Coding cleaning items may be a new way of doing things but the reality is that it is a significant improvement over the old way of doing things. With proper training that includes the "why" of cleaning along with the "how-to's" employees will better understand the new products and be able to protect their customers from the threat of cross contamination. All facilities benefit from the use of color coding systems, including those industries that require health care cleaning, school cleaning, industrial cleaning, office cleaning and more. Reduce the risk of cross contamination, control infection and get the quality cleaning deserve in your facility. Color coding cleaning items may be a new system for you and your employees to get used to but the bottom line is it is better than what was done before, it's reasonable and low cost to implement and your customers deserve the best.
First Green Commercial Cleaning can help you with the cleaning of your Cincinnati / Northern Kentucky commercial office or industrial facility. We offer superior customer service and strive to build long term business relationships with our clients.
Contact us (859-292‐8556) today for a free consultation!
—
Why First Green Building Cleaning Services?
Customized Cleaning Plans – What sets First Green Building Services apart is our attention to detail. We understand that different businesses have different needs. For years, First Green Building Services has been providing janitorial services for educational facilities, schools, and colleges. Over the years we have provided K-12 Public School Cleaning,  K-12 Private School Cleaning, Technical School Cleaning, and College Cleaning
Owned and Operated Locally – With direct owner involvement, we provide immediate response time to any situation you might incur. Even after business hours, First Green Building Services has a 24-hour customer service number to resolve any cleaning issue.
Quality Control – First Green Building Services has a low cleaner to supervisor ratio which allows us to make sure your facility gets the attention and detailed cleaning that it deserves.