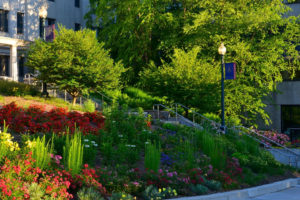 What attracts students and parents to a school? One major factor that might go overlooked is the curb appeal of the campus environment. A well-maintained landscape will draw them in and add a level of pride and beauty, which will contribute to their decision. These days, tuition-based campuses are marketing as much to parents as they are to students. Here are a few suggestions about how to make your campus landscaping impress and be a great place for students to grow and learn.
Educational Institutions Should Invest In Outdoor Spaces
Universities especially need multi-purpose outdoor spaces. Students need comfortable appealing places to study, catch up with friends, have poetry readings, and maybe even take a yoga class. An area with tables with solar panels to charge phones and computers surrounded by nature and a flower garden in school colors would be a great area for students to gather before or after events.
First Impressions Count
Designing a new landscaping project around the main entrances of the institution is a great plus. An unattractive entrance to your campus is not inviting to potential students and parents. You can use landscaping to direct traffic flow right to your front door. Use decorative concrete lined with plants or flowers to lead the way. Signs are everywhere on campuses, they are great opportunities for appealing, first impression landscaping.
Add Trees And Shrubs For A Campus Landscape
An area's soil conditions, traffic, sunlight, and water or drainage give you a guide for what species might work best there. Then you also have to look at the specific habits of that tree or shrub, such as its growth expectations, sunlight, water, and soil needs, and fruiting or flowering habits. Matching these two things will give you optimum results for a school landscape design. Work with a local landscaper to help you choose the best plants for your area.
Use Flowers
While flats of annuals are a staple of landscaping for campuses, do not forget spring bulbs. You want lots of color for big events such as commencements, open houses, and sporting events. Use school colors for popular photo spots as the areas where everyone goes to take graduation photos' definitely have to be on point.
High Traffic Areas
If folks are walking on the lawn and it is getting trampled, install a path. Getting from Point A to Point B is simple enough. And most of the time we don't think too much about what we're walking on. If there's a path or walkway headed in the right direction, then we're walking on it. The path you provide your students, employees, and visitors should never make them think twice.
Landscaping With Environment Impact
The university should consider an interest in decreasing the environmental impacts of campus landscaping. The physical campus should promote the University's goals of reducing water use and runoff, utilizing native plants, and shifting to more ecologically aware campus landscaping practices. The benefits of sustainable land use go beyond the environmental perks of reducing paved areas and increasing the use of native plants. This increases the economic and social benefits of more sustainable campus landscaping, including lower operating costs resulting from the reduced need for highly managed care, greater community awareness of environmental issues, and opportunities for teaching.
Think About The Future
When thinking about campus landscape design, consider how it might look as it matures. This is important when deciding where to place trees and shrubs, which will change scale over time. Also, think about the type of maintenance that your landscape design will require, weighing the cost and time needed to keep it looking beautiful. Everybody wants to be proud of their school. Great landscaping bolsters school pride. When an alumnus comes back for a visit, they want the campus to look great. Landscaping affects the future generation.
Now, more than ever, colleges and universities should invest in renovating or developing new outdoor spaces that can serve academic and student life needs for years to come.
Contact us (859-292‐8556) today for a free consultation!
—
About First Green Commercial Landscaping
First Green Commercial Landscaping is a locally owned leading provider of lawn care and landscaping services in the Cincinnati/ Northern Kentucky area. We provide superior customer service and strive to build long term business relationships with our clients.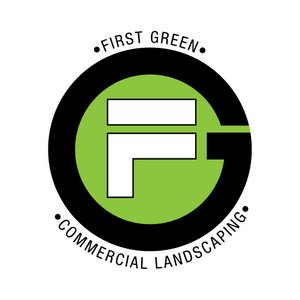 Lawn Care
Landscape Maintenance
Snow Removal