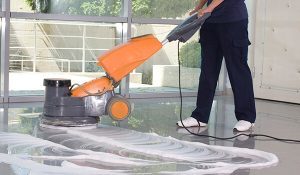 It has been documented that all too often customers don't ask enough questions of prospective janitorial vendors. People tend to hire a firm based on price, get burned because of poor service, and repeat the process again and again. If you are hiring a new office cleaning service, you would probably ask what they charge, what kind of services they provide and how often they would be at your property. However, office cleaning isn't a one size fits all service so you will need to ask specific questions. You do not want dirty floors, dusty desks, and messy restrooms to greet your customers. You want your customers, clients and employees to have a great first impression of your property. A small office might only need trash removal, restroom service and light cleaning a few times a week. A three story office complex will need lots more service and on a more frequent basis. Here are just a few questions for you to ask if you are in the market for a new office cleaning company.
Do You Clean Germ Hot Spots?
Germs are everywhere! Although our offices can't be completely germ-free, a commonsense approach to cleaning can help us cut annual sick days in half and keep your property healthy. Germ hot spots are places where germs are more likely to lurk. The refrigerator handle, the restroom, and the buttons on the elevator.
What Cleaning Products Do You Use?
Try to get a list of the products your prospective service uses. Ask why they chose those products over others. Ask if you can have eco-friendly products and if you can request additional specialty products. Be upfront about the different surfaces in your property, and discuss whether a specific product needs used in that area. Your cleaning service won't know exactly what you need unless you tell them.
What Are Your Options For Floor Care?
Hard floors need to be cared for throughout the year and require professional cleaning to restore their beauty just like carpet and other flooring. Hard floors are a beautiful choice for hallways, business entry ways, and other high traffic areas. As your flooring get lots of traffic and wear and tear, it is a large part of the ambiance of your property. Check the warranty on your carpet to understand the manufacturer's requirements for care beyond vacuuming.
How Can I Easily Contact You?
Communication is critical in any business relationship. Usually, your cleaning service works in the evening when you will not be available to talk to the cleaning people; therefore, you need a way to get a quick response when needed. Make sure you can reach them through phone, text or email.
If you are looking for a cleaning service, give us a call. We will be more than happy to meet with you and answer all your questions and give you a reasonable bid for your property needs.
Contact us (859-292‐8556) today for a free consultation!
—
Why First Green Cleaning Services?
Customized Cleaning Plans – What sets First Green Building Services apart is our attention to detail. We understand that different businesses have different needs. For years, First Green Building Services has been providing janitorial services for educational facilities, schools, and colleges. Over the years we have provided K-12 Public School Cleaning,  K-12 Private School Cleaning, Technical School Cleaning, and College Cleaning
Owned and Operated Locally – With direct owner involvement, we provide immediate response time to any situation you might incur. Even after business hours, First Green Building Services has a 24-hour customer service number to resolve any cleaning issue.
Quality Control – First Green Building Services has a low cleaner to supervisor ratio which allows us to make sure your facility gets the attention and detailed cleaning that it deserves.