Commercial landscape edging can add an aesthetic appeal to your space, as it can define and divide your landscape areas. Edging keeps grass from growing into mulch, corral gravel so it doesn't stray into flower beds, and just makes everything look tidy.
What Is Landscape Edging
The right landscaping design ideas will make your property look beautiful and will boost your business's curb appeal. Landscapers will design several distinct spaces on your property. This could be a border of flowering plants or bushes. Each space will look better with the right landscape edging. Landscape edging refers to the material used as a barrier in garden beds and can be made from different types of edging material.
Shovel Edge
It is a neat cut edge between turf and pavement or mulch. A four-inch-deep trench, cut with a shovel or an edging tool, stops grass from growing into flower beds, requires little maintenance, and lasts about one year. It is the most common edging done on commercial property by your professional landscaper.
Straight Metal Edging
Usually made of aluminum, this sturdy edging offers a straight metal edge that works great for several purposes. Aluminum edging offers a more permanent edge than a simple shovel cut edge. Aluminum is your best choice, as it is the best choice for a crisper, longer lasting edge.
Plastic Edging
Avoid retail grade edgings or cheap imitations. For your commercial building, you want a product that is designed to last. We've all seen plastic edging sticking out of the ground or broken around a landscape bed. Likely, a poorly constructed edge gives all plastic edgings a bad reputation. A high-quality commercial plastic product is available and when installed properly, it should be nearly invisible and last for decades.
Granite Edging For An Outdoor Walkway
Durable, strong, and able to withstand harsh weather, granite is invaluable for landscaping. It is also adaptable for a variety of purposes. When they have been cut to a uniform size and shape, granite blocks or pavers make a beautiful stand-out edging for a driveway or walkway. Because these are high-traffic areas, granite's durability is an enormous benefit. Used in a line, they are very decorative plus they do a nice job of separating gravel from mulch.
A well-defined edge is usually the difference between landscaping that looks slipshod and one that looks professionally groomed.
Contact us (859-292‐8556) today for a free consultation!
—
About First Green Landscaping
First Green Commercial Landscaping is a locally owned leading provider of lawn care and landscaping services in the Cincinnati/ Northern Kentucky area. We provide superior customer service and strive to build long term business relationships with our clients.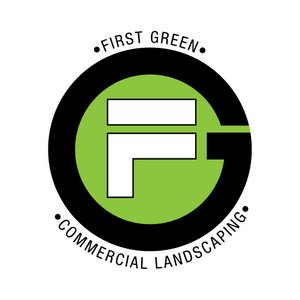 Lawn Care
Landscape Maintenance
Snow Removal