The homes and gardens of are focused on keeping up with current trends. If you want to have a good pool of customers, buyers, or renters, it is important that you keep your landscape up to date. We're going to discuss the latest landscaping trends that you should keep an eye on, especially as a property manager. In this market, there is a ton of competition, so it is important you stand out to catch the eyes of prospective tenants. Most are young people or couples who are well aware of what's "in." And, if you want a building without a vacancy, you have to be willing to stand out.

Grills And Fire Pits 
These have become a standard for common areas in apartments and condos. Fire pits and grills have a way of getting people outside and gathering together. Having neighbors outdoors enjoying themselves seems to create a sense of community for everyone around. Cooking out with friends and family is the perfect way to spend your evening. And hanging out by the fire, roasting marshmallows through the fall and into early winter allows you to enjoy your landscape longer. The new generation of renters love outdoor spaces that feature grills and fire pits as it gives them a place to bring their guests. Hotels have even joined in on this landscape enhancement trend as outdoor fire features encourage guests to spend more time on the property.

Save The Bees
Bees are important members of our ecosystem. And you can help them by planting a pollinator garden. The world is becoming more aware of the rapid decline in the bee population.  But they aren't the only type of pollinators at risk. Other insects, birds, and bats are also in grave danger due to disease, use of pesticides, and habitat loss. Add the plants they love to your landscape to help. These include bee balm, cardinal flowers, and Virginia sweetspire. Schools are another great place for pollinator gardens as this gets kids aware of the issue and makes them want to help make a difference. They don't take up a lot of space and can simply be a few window boxes outside of the science rooms– it makes for a good lesson, too!
Culinary Gardens 
Restaurants are taking their food into their own hands and have started planting their own herbs and vegetables. These can be found out their back door or on their rooftops, if they don't have the ground space. Rooftop gardens are becoming another hot trend these days. If you've been to a pizzeria where the basil is freshly picked, you can understand why this is the new thing. But there are more reasons culinary gardens are in. For one, it is nice to know where your herbs and veggies come from – not to mention how fresh they are. In addition, they're cheaper and there's no packaging. Having edible plants outside your restaurant will not only make your recipes better but they also enhance the look of your property. Almost any herb will thrive in a planter, so your options are plentiful. Plants like tomatoes, green beans, and peas don't need much space to grow either. They love to scurry up a trellis– that's almost all you need. Culinary gardens are easy to do and come with so many benefits.
Outdoor Lighting 
Lighting is important for the safety of all people that visit any property and should exist on your pathways and parking lots. But you can get creative with your lighting and use it to beautify your property. Strategically placing your lighting near trees can turn them into an art feature. Japanese maple trees have an architectural look all year long. Can you imagine how cool these would look when lighting casts its shadow against a wall? Fire features like grills and firepits will also need adequate lighting. Good lighting extends how much time people can spend outdoors, which is nice when the days get shorter.
Embrace All Senses 
Of course you want your landscaping to look good but don't forget to appeal to all the other senses. Add a sensory garden! Sensory gardens are fun to smell, touch, and even taste! This new trend is easy to add to your courtyard, patio, or any outdoor space where people are likely to get together. Even in places where space is limited, these are a great option. Put pots filled with herbs like rosemary, basil, parsley, dill, and oregano on a sunny balcony or rooftop terrace. A lamb's ear plant is fuzzy and fun to touch– it almost feels like your favorite pet. The rustle of ornamental grasses as they blow in the breeze is a peaceful sound that can relax you after the end of a long day. These are great options for hospitals and senior living homes. They get people out of their cold rooms and into a space where all their senses are enhanced– it can be very healing and relaxing.
Trust First Green Commercial Cleaning & Landscaping With Your Landscape Enhancement Trends
You want to keep your property looking up to date. Whether it's a modern patio update using industrial materials or a pollinator garden to help make a difference in the world, our team of experts at First Green Commercial Cleaning & Landscaping can help you get your outdoor spaces looking great for all to enjoy.
Contact us (859-292‐8556) today for a free consultation!
—
About First Green Landscaping
First Green Commercial Landscaping is a locally owned leading provider of lawn care and landscaping services in the Cincinnati/ Northern Kentucky area. We provide superior customer service and strive to build long term business relationships with our clients.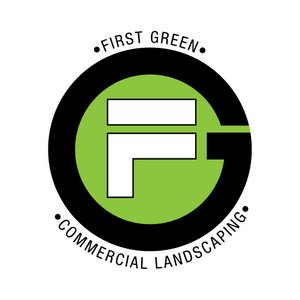 Lawn Care
Landscape Maintenance
Snow Removal