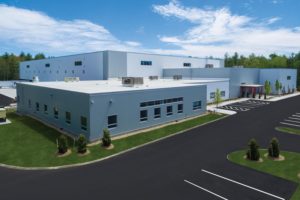 It's no secret that industrial buildings are kind of, well, let's just come out and say it—drab. Warehouses and industrial buildings are a big part of our commercial economy, right? Everyone needs a place to store, create, or manufacture merchandise. But, just because you're running a super functional building doesn't mean that it needs to look super boring. As a company, you know all of your brand assets need to look their best. Every facet you touch is a reflection of who you are, what your brand stands for, and creates a long-lasting image of what your company represents. That means the design, the upkeep, and the overall feeling your industrial or commercial landscape portrays absolutely matters. You want your landscaping to be low maintenance, tough, drought tolerant, and to look nice so it can improve the looks of your building. We would like to share a few tips in this article about how to improve the looks of your industrial building or warehouse…
Add Trees
Trees provide a little color, a pop of texture, and a whole lot of multi-level dimensions that can help really alter the way people view your space. Trees add a much-needed vertical element to horizontal factory buidlings, warehouses, and distribution centers. Maple trees and cedar trees are evergreen and give you an added bonus during the winter. A red twig dogwood is a great suggestion for these buildings because they are often white or beige and the red branches add a great pop of color.
Entrance Appeal
Pay special attention to entrance landscaping. While you might not be trying to attract consumers to your warehouse, you do want to make sure that everyone who visits your commercial space feels welcomed. A warm and a bright pop of color in your entrance landscaping can help you welcome employees, partners, and customers. Driveway entrances are great places to add seasonal color. Pedestrian entrances should also look great. A suggestion would be to use boxwood shrubs for an elegant backdrop for flower beds packed with colorful flowers.
Highlight Signage
Layer plants around signage, using trees, shrubs, perennials and ground cover. Signage announces your company's brand and welcomes visitors to your site. Adding shrubs to each side of a sign makes the sign seem bigger, giving it a more impact. Great landscaping makes your signage hard to miss.
Rodent Issues
Rodents are surly something you do not want in your landscaping. River rock or gravel is a better choice that dense ground cover near your building. Dense ground cover provides the perfect habitat for rodents to nest and tunnel.
Keep Branches Trimmed
Maintenance makes a difference. At the end of the day, you can make changes to your landscape, but none of them will matter if you don't plan to invest in maintenance or upkeep. Industrial buildings and warehouses need to be well maintained to avoid dangerous circumstances for everyone who uses that space. Trim hedges, monitor shrubs, check walkways, etc. or partner with a landscaping company that's willing to tackle that for you on a regular basis.
Plan for Parking Lot Islands
These excessive stretches of asphalt are super dull. With little islands scattered throughout the parking lot, you can make a huge difference in how people view and use your lots! Trees provide welcome shade for hot asphalt parking lots, so include parking lot islands. Red maples are low maintenance and offer pretty fall coloring in the parking lot.
Bring On Seasonal Color
Think cheerful spring bulbs, followed by purple and pink petunias in the summer. The foliage of Virginia Creeper is a deep, rich green through the summer and turns fire-engine red in the autumn. When Russian sage is planted in a group, the silhouette seems to glow in the subtler light of winter. Also evergreens, graceful ornamental grasses, and shrubs with unique forms offer some winter interest.
Engage Employees
A new trend for companies is to provide places for employees to come outside and eat, take a break, or hold a meeting. Offer an outdoor patio to enjoy lunch, fresh air, or an outdoor meeting. Provide tables, benches, and oversized pots of colorful plants. This leads to better productivity.
Add Lighting
Of course basic lighting for your building was included during the construction of your building. But adding and highlighting any interesting architecture of the building will improve your brand. Light up the trees on the property with landscape lighting to add drama and interest.
What is a LEED Certified Building
The Leadership in Energy and Environmental Design (LEED) standard has grown into "the world's most widely used green building rating system." It is effectively the leading standard used for evaluating a building's energy efficiency and the ability to reduce carbon emissions. Consider replacing turf with native plants. They do not need much water. They tolerate the heat from a big parking lot. And they reduce the need for mowers, which reduces emission from lawn equipment. Many commercial properties want to make a less significant carbon footprint. Even if you are not pursuing LEED certification, the practices use less energy so your bill goes down and your building will have a better environmental rating.
Just remember, your industrial building landscape doesn't need to be boring and it can be truly exciting if you design and maintain it correctly.
Is your property not receiving the attention it deserves? Are you tired of overpaying for subpar service? First Green Landscaping provides the best value for professional lawn care and landscaping services in the Cincinnati / Northern Kentucky area. No property is too big or too small for First Green Landscaping.
Contact us (859-292‐8556) today for a free consultation!
—
About First Green Commercial Landscaping
First Green Commercial Landscaping is a locally owned leading provider of lawn care and landscaping services in the Cincinnati / Northern Kentucky area. We provide superior customer service and strive to build long term business relationships with our clients.
Lawn Care
Landscape Maintenance
Snow Removal
>> Learn More