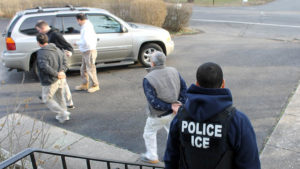 There are reasons why you wouldn't want your cleaning company to use illegal aliens to clean your office building. Lack of accountability for the individual cleaning your building is one. Another is that the company you use could get shut down and payments made to them could be hung up in court as it all gets settled. Lastly, most illegal aliens have a large language barrier to overcome and this can cause communication problems directly when speaking with them individually and through their job performance as they find it tough to follow directions from management.
Accountability Issues
Illegal aliens are not "in the system" so they can be difficult to track. They could potentially steal something from your office and not be seen again. Same goes for violent crimes. There have been a number of cases of illegal aliens committing felony crimes while they are working as cleaners. While not all of them are violent crimes, it's just best to not to open your staff or employees up to potential problems like these.
Your Reputation, Fines, Penalties, and Closures
You probably won't have to bear responsibility for hiring a company that has illegal aliens working for it but in the court of perception you may look irresponsible to current clients or future prospects. If your cleaning company employees illegal aliens, they could face large fines and penalties, which could put them out of business or change their level of service to you. Payments made for services can get held up in court as it all gets settled, but you will still need your office cleaned. You don't need that headache!
Lost in Translation
Because of language barriers, illegal aliens are going to be tough to communicate with directly. Special requests made to management may be lost in translation and not done to your liking or specifications.
Bottomline – A good cleaning company will require a drivers license or photo identification and social security card when hiring all new employees. It will also be against their policy for cleaners to bring friends or family into buildings with them while cleaning.
First Green can help you with the cleaning of your Cincinnati / Northern Kentucky commercial office or industrial facility. We offer superior customer service and strive to build long term business relationships with our clients.
Contact us (859-292‐8556) today for a free consultation!
—
Why First Green Commercial Cleaning?
Customized Cleaning Plans – What sets First Green Building Services apart is our attention to detail. We understand that different businesses have different needs. For years, First Green Building Services has been providing janitorial services for educational facilities, schools, and colleges. Over the years we have provided K-12 Public School Cleaning,  K-12 Private School Cleaning, Technical School Cleaning, and College Cleaning
Owned and Operated Locally – With direct owner involvement, we provide immediate response time to any situation you might incur. Even after business hours, First Green Building Services has a 24-hour customer service number to resolve any cleaning issue.
Quality Control – First Green Building Services has a low cleaner to supervisor ratio which allows us to make sure your facility gets the attention and detailed cleaning that it deserves.