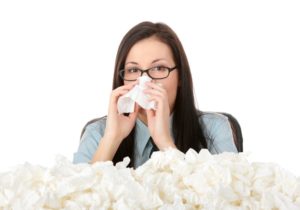 Well it is fall and the kids are back in school, the leaves are changing, the weather is getting cooler and Halloween is just a few weeks away. Fall also brings with it some not so fun things, like the beginning of flu season. Is your Janitorial service working with you to reduce the risk of spreading disease? You as the Facility Manger needs to make sure your employees, customers and visitors are protected during flu season and beyond. The flu vaccine continues to be the best first line of defense against the flu but you also need to partner with your office cleaning company to minimize the severity of this year's flu season. . You can take some preventative measures to stave off an unpleasant financial impact by keeping your office clean and everyone from getting sick. With the right office cleaning company you can avoid an office pandemic by killing the germs and bacteria where they congregate.
Keep Those Restrooms Clean
Poorly cleaned restrooms can harbor and spread germs and more germs mean the likelihood that germs multiply, spread and makes people sick. What can a Facility Manager do to make sure the restrooms are clean?? Hire a top notch janitorial service that is up to the challenge of keeping the trash from piling up, that swampy funk around sinks cleaned up and the commodes sparking clean. This with amount to lower absenteeism and a higher moral and an increase in the bottom line.
Wash Your Hands
It is amazing just how many people do not wash their hand correctly. The Center for Disease Control the authority on the subject has this to say:
Before, during and after food preparation and eating
Before and after caring for a person who is ill
Before and after treating any open wound, cut or abrasion
After using the toilet, changing diapers or cleaning up a child who has used the toilet
After blowing your nose, coughing or sneezing
After touching an animal, animal feed or animal waste
After touching garbage.
There are some great hand washing posters and printouts available and you might consider posting them as a reminder to employees.
Get the Germs Where They Hang Out
Those germs love the many surfaces our hands touch every day. Areas like faucet handles, light switches, stall doors, computer mice and touch pads, telephones and more see many hands throughout the day. So as a Facility Manager make sure your janitorial service is concerned about all these important areas.
Make Sure Your Janitorial Service is Cleaning for Health
Find a janitorial service that understands the science behind cleaning, how to target germs right where they live and is committed to doing good work during flu season and beyond. Your Janitorial service should know the difference between cleaning, disinfecting and sanitizing. Cleaning a surface simply removes visible debris, dirt and dust. Sanitizing a surface makes that surface sanitary or free of visible dirt contaminants that could affect your health. Sanitizing is meant to reduce, not kill, the occurrence and growth of bacteria, viruses and fungi. Disinfecting a surface will "kill" the microscopic organisms.Don't let flu season catch you unawares. A little pre-planning can save a lot of frustration.
Can We Help You With Your Cleaning ?
At First Green Commercial Cleaning, we strive to do everything we do from the large, complex jobs to the smaller ones with attention to the little details and a healthy dose of enthusiasm. We reward our employees with competitive pay and benefits, incentives, recognition opportunities and more. We offer the best value in janitorial cleaning and landscaping services. Our competent and highly trained staff with a low turnover and our consistent drive to provide complete customer care makes us a respected organization.
First Green Commercial Cleaning can help you with the cleaning of your Cincinnati / Northern Kentucky commercial office or industrial facility. We offer superior customer service and strive to build long term business relationships with our clients.
Contact us (859-292‐8556) today for a free consultation!
—
Why First Green Building Services?
Customized Cleaning Plans – What sets First Green Building Services apart is our attention to detail. We understand that different businesses have different needs. For years, First Green Building Services has been providing janitorial services for educational facilities, schools, and colleges. Over the years we have provided K-12 Public School Cleaning,  K-12 Private School Cleaning, Technical School Cleaning, and College Cleaning
Owned and Operated Locally – With direct owner involvement, we provide immediate response time to any situation you might incur. Even after business hours, First Green Building Services has a 24-hour customer service number to resolve any cleaning issue.
Quality Control – First Green Building Services has a low cleaner to supervisor ratio which allows us to make sure your facility gets the attention and detailed cleaning that it deserves.