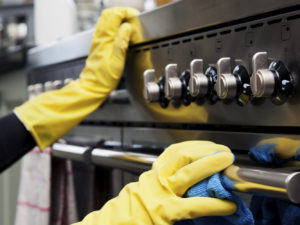 Every restaurant owner wants their business to be clean because it presents a more welcoming atmosphere, reduces the risk of contamination and food-borne illness. A clean restaurant also provides a safer work environment. Commercial cleaning services offer a way to keep your restaurant properly cleaned while freeing up your staff to focus on other tasks. Most customers don't notice when they enter your restaurant that it is clean and know if there is dust or dirt in your dining room. A thorough and complete cleaning of your restaurant is not only crucial for its reputation. It is also essential to ensure food safety. The following are some of what professional cleaners will take into consideration when quoting a price to clean your restaurant…
Size of the Restaurant
Most companies charge by the square foot. This helps them determine how many crew members will be needed to get the job done. The larger the restaurant the more tables, which means more surfaces to clean and polish. However, the cleaning company will need to see your restaurant it would be hard for them to give you a price just by the square footage. Far more factors go into determining the total cost.
Flooring Types
Different types of the floors have different cleaning needs. You wouldn't use the exact same methods to clean carpet and hardwood, so costs may differ depending on your floor type.
Cleaning and Disinfecting the Kitchen
The food preparation area must be kept clean and should be sanitized often. Lighter duty cleanings generally cost less than more heavy-duty tasks, such as hood degreasing. Kitchens have more intensive sanitation needs and will most definitely contribute to your costs. An expert commercial cleaning company can carry out these duties, thus protecting you against possible food contamination.
Number of Restrooms
Washrooms must be frequently cleaned. Countertops, floors, mirrors, sinks, and toilets should all be cleaned frequently. Similar to kitchens, they tend to require more attention than other areas.
Disinfecting and Sanitizing
Cleaning and sanitizing are both essential tasks. Sanitizing reduces the number of pathogens on the clean surface to a safe level. When sanitizing correctly, you can kill 99% of bacteria, fungi, and some microbes.
Before you hire anyone, sit down and meet the people that might be cleaning your restaurant. Feel free to ask questions, after all, it is your business you're looking after.
First Green Commercial Cleaning can help you with the cleaning of your Cincinnati / Northern Kentucky commercial office or industrial facility. We offer superior customer service and strive to build long term business relationships with our clients.
Contact us (859-292‐8556) today for a free consultation!
—

Why First Green Commercial Cleaning?
Customized Cleaning Plans – What sets First Green Building Services apart is our attention to detail. We understand that different businesses have different needs. For years, First Green Building Services has been providing janitorial services for educational facilities, schools, and colleges. Over the years we have provided K-12 Public School Cleaning, K-12 Private School Cleaning, Technical School Cleaning, and College Cleaning
Owned and Operated Locally – With direct owner involvement, we provide immediate response time to any situation you might incur. Even after business hours, First Green Building Services has a 24-hour customer service number to resolve any cleaning issue.
Quality Control – First Green Building Services has a low cleaner to supervisor ratio which allows us to make sure your facility gets the attention and detailed cleaning that it deserves.