The following are the results of a recent landscaping survey given to property managers with the goal of trying to find out how good property managers can ease some of their top challenges. From the data collected, it shows that better commercial landscaping is a very visual way to increase their brand image and achieve the rental levels they need to be profitable.
Budgeting Challenges
Property managers need help getting the most for their dollars but need to maintain their brand image. The survey says the biggest hurdle in controlling cost for their commercial property's are…
Unexpected maintenance 36%
Reduced budgets 36%
Changing lifestyles 9%
Other 18%
Commercial Landscaping Maintains A Great Brand Image
How can the landscaping professional help get the property back to normal? It is cheaper to be proactive with lawn and plant health than to deal with expensive fixes down the road. Adding a few key landscaping services to your contract can help avoid unpleasant surprise costs. Our suggestion would be…
Aeration
Pruning
Lime treatments
Drainage work
Quality Vendors
The survey asked how easy or difficult is it to find a quality vendor compared to years past? The answer was…
Easy 9%
Abut the same 81%
Difficult 9%
Finding Quality Tenants
The question was compared to the past 5 years, how easy or difficult do you think it will be to find quality tenants? The answers were…
About the same 66%
Difficult 33%
Easy 0%
Of course, tenants are the lifeblood of a commercial property. When you make the right choices with placing a tenant, you are stabilizing the asset for the long term and boosting the investment potential from the property. A good tenant can do many things for the investment over time. In order to keep your tenants and lease to new ones your need to bring your property back to market standards.
Curb Appeal Matters When Trying To Attract Tenants With Higher Income Levels
Curb appeal is where a commercial landscaping professional can help a property managers most. They can brighten your entrance-way with welcoming flowers in key spots. Give you a healthy green turf and freshen up the trees and shrubs by pruning and trimming.
Is your property not receiving the attention it deserves? Are you tired of overpaying for subpar service? First Green Landscaping provides the best value for professional lawn care and landscaping services in the Cincinnati / Northern Kentucky area. No property is too big or too small for First Green Landscaping.
Contact us (859-292‐8556) today for a free consultation!
—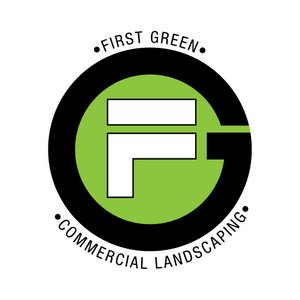 About First Green Commercial Landscaping
First Green Commercial Landscaping is a locally owned leading provider of lawn care and landscaping services in the Cincinnati / Northern Kentucky area. We provide superior customer service and strive to build long term business relationships with our clients.
Lawn Care
Landscape Maintenance
Snow Removal
>> Learn More