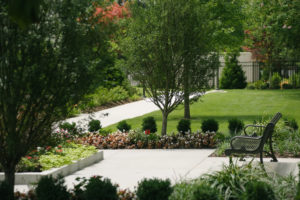 A commercial property's common area consists of the shared spaces where people are able to gather, relax, enjoy a picnic, read a book, pass a ball, and just enjoy themselves outdoors. Although they are labeled as common, they should be so much more. These areas should be a highlight in your property's landscaping. Common areas are often a part of apartment complexes, office parks, universities, HOA neighborhoods, and more. Wherever they are, common areas should be appealing and look like a place where people will want to spend their free time. The following shows you how you can enhance the common areas on your commercial property to make them more attractive than ever…
Why Are Common Areas Valuable Features?
Common areas help to create a sense of community and encourage people to get outside to breathe in the fresh air and relax. At an office park, common areas offer a space to retreat from a long work day, this allows employees to reset so they can come back to work feeling refreshed and ready to accomplish the rest of the day's task. An appealing common area is a wonderful perk for employees to destress and recollect their emotions. At a college or university, these spaces provide a good place for students to connect, study, get together for group projects, and relax between their classes. When located in a retail setting, common areas tend to cause shoppers to hang around longer. As a result, they are more likely to spend more money shopping. Inviting, appealing common areas can help seal the deal with potential tenants. Not having an attractive outdoor space for your tenants to gather can make the difference in their decision to choose your property or someone else's with more to offer.
Seating Areas
After a long day or a walk around the block, nothing beats having a good spot to just sit down and relax.
Your seating area could be as simple as a courtyard that features a few benches surrounded by shrubs and flowers. This will create a good spot for residents to relax or gather together to talk while coming and going. Want to take it to the next level? Consider adding a water feature, such as a fountain or koi pond to make the space feel even more relaxing. 
For large businesses, having an eye-catching yet comfortable seating area outside will provide your employees with a great spot to enjoy their breaks outdoors when the weather permits. Nothing like a breath of fresh air to motivate them before returning to the job. 
Common Area Gardens & Flower Beds
Plants like trees, shrubs, and flowers will add a touch of color and tranquility to your common area. Consider perennials, shade trees, bright annuals, and even rose bushes as you narrow down your options. By including an assortment of plants that bloom at different times throughout the year, you can be sure that there will always be something that makes the outdoor space appealing to many. Choosing native plants for these areas is the new trend. These plants will be able to withstand the conditions in the region and are less likely to be infested with pests and diseases. You can expect native plants to thrive and only require a minimum level of care. In addition, birds and butterflies will be attracted to your space and will be a hit for residents and visitors.
Walking Paths
Walking paths are a great way to encourage people in the area to get outside for fresh air and exercise. Based on the layout at your property, you could consider installing trails or paths throughout the space. By creating a clear space to walk, jog, and run, you can minimize unwanted foot traffic in your green spaces. The material you use to construct the path is up to you. Common choices include mulch, pavers, river rock, and poured concrete or asphalt.
Playscapes
A playscape is the perfect spot for families with small children to get out and exercise– and for parents to get a little bit of a break. Consider purchasing equipment for each age group and dividing the spaces accordingly (toddlers, preschoolers, school-age children). The surface installed beneath the equipment is by far one of the most important elements. Wood chips will need to be replenished annually and that can get expensive. Choose a more sustainable playground surface that can minimize the maintenance cost each year. Some options can even incorporate your business logo. Rubber mulch is a smarter choice compared to traditional wood chips. But poured rubber, which is poured like concrete, creates a seamless surface that does not require maintenance and is shock absorbing– this is ideal for kiddos.
Patios
Patios are inviting and relaxing. They provide a great space for people to catch up. Consider adding a water feature like a tranquil fountain or a pond with koi fish. Using low shrubs to separate areas is a good way to offer private spaces for people to chat or read a book in peace. Patio spaces are also a good spot to add a grill or firepit, this will encourage your residents to connect with one another. Oversized planters are sure to make a statement and are great for areas that lack green space. They provide beautiful focal points and break up the monotony of flat surfaces. They are an easy way to hide eye sores while creating privacy.
Common Areas Help Residents To Get Outdoors And Connect
By creating an attractive, irresistible common area, you will encourage your residents to get outside and build a community with each other. The first step to getting this done is hiring the right contractor. At First Green Commercial Cleaning & Landscaping, we pride ourselves in offering services to help you create the landscape of your dreams that is not only beautiful but functional.
Our do-it-all team can install flower beds, gardens, patios, playscapes, walking paths, gazebos, pavilions, retaining walls, and more to make your common areas stand out and look great. And when the initial transformation is complete, we can continue keeping your property looking great with routine maintenance services including lawn and plant care.
Contact us (859-292‐8556) today for a free consultation!
—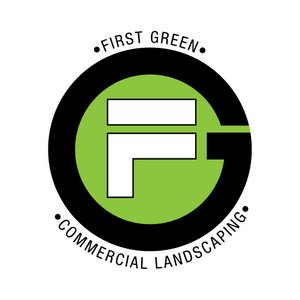 About First Green Commercial Landscaping
First Green Commercial Landscaping is a locally owned leading provider of lawn care and landscaping services in the Cincinnati / Northern Kentucky area. We provide superior customer service and strive to build long term business relationships with our clients.
Lawn Care
Landscape Maintenance
Snow Removal