Make people want to see more. Your commercial property's signage is a public invitation to invite customers, visitors, tenants, and clients to stop in. First impressions mean everything, especially in the professional world. You may only have one opportunity to show a client or customer what you're about. Hire a professional to boost your signage with great landscaping. They will know how to use color, plants, and a few other tricks to make your signage stand out. Let's take a look at a few ideas.
What Will Draw the Most Attention to My Sign?
Color attracts attention, whether with annual flowers, colorful perennials, or blooming shrubs. The lure of color is going to strategy. If there's no landscaping, people might not even want to peer into your parking lot. But if there are some beautiful flowers, maybe a water feature, chances are they're going to want to go in and see what other beautiful things are there. In addition to beautiful commercial landscaping needs to be tough and often drought tolerant. . You want to offer year-round interest maybe with an evergreen that blooms in the summer and is low maintenance. A suggestion is Dwarf crape myrtle It's very hardy and comes in several colors. It stays compact, too, which is a good trait in signage landscape plants. While it only gets about two feet high, it has a full, luxurious look.
Change the Landscaping Twice a Year
ou want to consider all four seasons. Bright red tulip and yellow daffodils look great in the spring, and purple and pink petunias pop in the summer, but you need your signage to stand out all year long. Flowering annuals, a signage landscaping staple, aren't meant to last a whole year. That's why professionals change them seasonally, so your landscaping always looks fresh and appealing. This seasonal rotation includes flowers for beds and pots in the spring to last through the warm months, and the second batch of fall flowers to freshen up beds and planters when the summer blooms have faded. Full-time evergreens, frilly ornamental grasses, and shrubs with unique forms offer interest when all the blooming plants are removed in the winter. Adding shrubs to each side of a sign makes the sign look bigger. Boswood is a low-maintenance evergreen that offers year-round interest.
Add irrigation
Irrigating the area around your sign allows you a lot more plant choices. That also allows for grass to grow, if that's important to you. More and more, new commercial properties are including irrigation systems. If not, you have to have a watering service which is an added expense. Your maintenance costs go down with an irrigation system.
Install Landscape Lighting
Highlight your signage when the sun goes down while boosting safety and security. Use energy-efficient, low-voltage outdoor fixtures. Even if your sign has lighted lettering, do not forget to light the landscaping around the signage. Lighting plants adds drama and impact.
Add a Water Feature
If it is the budget an instant attention grabber is a water feature. The soothing splash and gurgle of fountains and waterfalls have a calming effect on folks and add drama and excitement to your signage area.
Why You Should Use a Professional Landscaping Services
Think about a professional service to care for your landscaping. Once you install your attention-getting signage landscaping you must consider maintenance. Keep it tidy, mulch will help keep the weeds under control and create a neat look. Professional maintenance will ensure your landscaping plants stay healthy. They will make sure the plants do not block the signage or the lighting fixtures. You always want your signage to make a great first impression. It is your business's persona.
Is your property not receiving the attention it deserves? Are you tired of overpaying for subpar service? First Green Landscaping provides the best value for professional lawn care and landscaping services in the Cincinnati / Northern Kentucky area. No property is too big or too small for First Green Landscaping.
Contact us (859-292‐8556) today for a free consultation!
—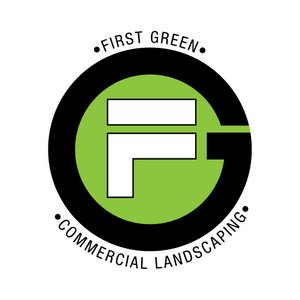 About First Green Commercial Landscaping
First Green Commercial Landscaping is a locally owned leading provider of lawn care and landscaping services in the Cincinnati / Northern Kentucky area. We provide superior customer service and strive to build long term business relationships with our clients.
Lawn Care
Landscape Maintenance
Snow Removal
>> Learn More