Hair salon cleaning may seem simple to the general public but when you own a business, you already know that cleaning the salon isn't just about sweeping the hair off the floor. A clean, sanitary beauty salon is a sign to your clients that salon professionals give the same attention to using clean tools and keeping their areas sanitary. Germs, bacteria, fungi, and viruses can easily breed in a beauty salon due to the nature of personal grooming. Salon cleaning isn't like cleaning any other type of business. A professional cleaning service knows the best tips for how to clean a beauty salon to keep it safe and sanitary.
It's Essential To Have Clean Floors
A spotless floor gives your clients an excellent first impression of your service and makes them feel good as they meet their salon professionals. Hair salon cleanliness begins with disinfecting floors daily and polishing or waxing them every few months to keep them spotless, shiny, and easier to keep clean every day. When you are hiring cleaners to service your salon, you will want to find a company that understands how to maintain your floors based on the type of material on the floor. Vinyl is fairly easy to maintain, and hardwood and tile can be a little trickier. For purposes of sanitation and appearance, it's essential to clean floors from corner to corner as part of regular salon housekeeping.
Hair Salon Cleaning Checklist
Hair salons are often bustling with clients and beauty professionals. There is little time for them to do the type of cleaning that a safe beauty salon requires. The clients come first and deserve 100% of your attention.
Here is a basic hair salon cleaning checklist that will serve as a good guideline for you to check to make your cleaners keep your environment as presentable and healthy as possible:
Sweep stations between clients
Clean floor area
Spray and wipe windows and mirrors
Dust all surfaces and décor
Wash and steam clean curtains
Deep clean bathrooms
Clean and sanitize coolers and drink stations
Restock bathroom supplies
Sanitize all sinks and wash bowls
Wipe down product bottles
Disinfect all work areas daily
Disinfect towels, aprons, and linens
Clean, dust, and maintain ventilation systems
Sanitize coffee pot handles, doorknobs, etc…
Disinfect linens
Wiping things down may be sufficient for other types of businesses, but beauty salons need to take extra care to disinfect and sanitize all areas around the salon. Sanitizing surfaces cleans them, and disinfecting refers to using hot water, detergents, and antibacterial soaps and sanitizers. Beauty salon professionals have different certifications, and each of them needs to know how to keep their workspaces safe and sanitary.
Contact us (859-292‐8556) today for a free consultation!
—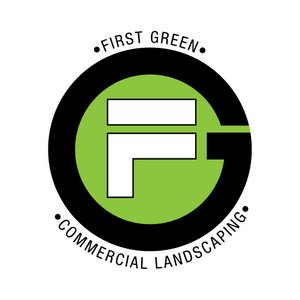 About First Green Commercial Landscaping
First Green Commercial Landscaping is a locally owned leading provider of lawn care and landscaping services in the Cincinnati / Northern Kentucky area. We provide superior customer service and strive to build long term business relationships with our clients.
Lawn Care
Landscape Maintenance
Snow Removal
>> Learn More