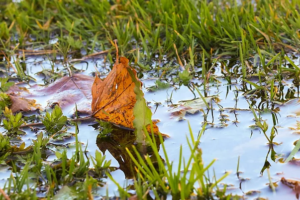 You don't have to be a professional to know your grounds are experiencing drainage problems. The water line on the side of your property, bare roots, and yard rivulets that look like little streams are hard to miss. These issues are not only unsightly, but they can also lead to some serious damage if left untreated. Pooling water is a property manager's nightmare. Look for the following and address it quickly…
Standing Water
Standing pools of water or mulch, leaves, and soil is a clear sign you have a standing water problem. Soil erosion and formation of rivulets are another sign. Improper grading of your yard can create depressions that hold water. This excess water will ultimately kill your turf and plant material and leave you with marsh like conditions on your lawn. Most often compacted soil, clogged downspouts and drain pipes, or French drains are the cause.
Clogged Downspouts
If you notice water overflowing from your rain gutters and not filtering down through your downspouts, there's a likelihood that they are clogged with organic debris such as leaves and twigs. If you ignore this problem for too long, you'll likely find standing water on your lawn, plant beds, and landscaping. Cleaning your gutters will also help.
Staining on Your Hardscapes, Stairs or Walkways
Moss grows well in wet soils. If the moss is growing in a low-lying area where the soil stays wet, improving the drainage can discourage moss from growing. This can cause unsightly black stains on your hardscapes, walkway, and stairs. If you just simply clean it off you are not solving the problem. You will need to eliminate the root cause.
Problems with a French Drain
A French drain, also called a land drain, is made up of a ditch filled with stones or gravel. The ditch directs water away from an undesirable area, such as the base of the house. These drains can be a simple and useful way to redirect water on a property, as long as they are angled from high to low ground. However, French drains also have a number of disadvantages. Silt, sediment and other debris can clog the drains and cause backup and overflow. A few solution would be to installing slotted pipes or putting in filters where the drain starts.
Lack of Water Outlets
One reason for poor drainage in your landscape and property is the absence of outlets to drain excess water away. We all know that water takes some time to sink into the ground, so you must channel your water elsewhere. If your landscaper failed to do the grading appropriately and sloped it towards your house or an area without a water outlet, the chances are that water will tend to collect faster that it drains. Also, over-watering of the grounds can cause pooling water. The first step to curbing a drainage problem on your grounds is making sure that you have sufficient outlets to drain excess water.
Malfunctioning Downspouts
Broken, small, clogged and wrongly located downspouts tend to direct large amounts of rain water onto your lawn, plant beds or hardscaping. Replacing or redirecting them can help reduce the problem. Check for ice, frost, animals: splits, holes, tears, or leaks. that possibly did damage and make repairs.
Poor drainage can leave your property vulnerable to various safety, health, and financial concerns. If you realize that water in your lawn and landscaping remains stagnant for long, you could have a looming drainage problem. A professional can help you maintain a healthy and attractive landscape throughout the year.
Is your property not receiving the attention it deserves? Are you tired of overpaying for subpar service? First Green Landscaping provides the best value for professional lawn care and landscaping services in the Cincinnati / Northern Kentucky area. No property is too big or too small for First Green Landscaping.
Contact us (859-292‐8556) today for a free consultation!
—
About First Green Commercial Landscaping
First Green Commercial Landscaping is a locally owned leading provider of lawn care and landscaping services in the Cincinnati / Northern Kentucky area. We provide superior customer service and strive to build long term business relationships with our clients.
Lawn Care
Landscape Maintenance
Snow Removal
>> Learn More