Water is a necessity, and it's the lifeblood of a beautiful landscape. But with water costs continuously on the rise, who doesn't want to save a little water? Every good landscaping job does need to be maintained with sufficient water to make sure your plants are beautiful and healthy. Nothing harms plants quicker than improper watering. However, in commercial landscaping, the overall budget must be kept in mind. So for that reason, it is important to save water so your water bill is low. We would like to share a few tips here about water-saving ideas.
Use Native Plants in Your Landscape
Your commercial property is a direct representation of your business and your brand. Whether you're a Fortune 500 company or a young startup, it's important to boost the curb appeal of your property with professional landscaping. Native plants can help you establish a beautiful, inviting landscape that employees and clients will be happy to visit. Native plants require little maintenance and they convert a message to customers that you are a real part of the local economy. Native plants are already used to the ebb and flow of rain through the season. That means using native plants in your commercial landscaping will save on the water used.
Use an Alternative to Grass When Possible
Water-saving alternatives to grasses are ground covers and native plants. Replace part or all the lawn with ground covers, preferably natives, which are suited for the site to save water. Sun-loving miniature daisies, creeping thyme, and blue star creeper cover bare soil while reducing water usage. Grass requires regular watering. Commercial landscapes should integrate grass and try to minimize its use while still maintaining an impressive landscape design. You might consider utilizing bushes, ferns, and wood chips in lieu of grass. When you minimize the use of grass, the water bill will reflect the choice. If you do plant grass aerate the soil where you plant grass. Aeration helps to hold water. Also, make sure the grass is not over-watered. A water-efficient landscape design can also be beautiful.
Group Plants According to Water Needs
Grouping plants into hydro zones is an approach to irrigation and planting design where plants with similar water needs are grouped together. A hydro zone is a portion of the landscape area where plants with similar water needs are grouped. Hydrozones are fundamental to efficient irrigation design, both from a water use and hardware perspective. They also provide a means of quantifying estimated water use. Ideally, each zone of the irrigation system will supply plants with the same water needs with the appropriate amount of water. Turf areas and planting beds have different water needs and should be zoned separately. Trees and shrubs generally need deep watering less frequently while turfgrass needs more frequent watering. Commercial landscaping can be varied and water efficient while still showing off a wide variety of plants.
When it comes to how water is used on your property, it should be effective, efficient, and systematic. A beautiful commercial landscape for your business exterior while using efficient irrigation with your budget in mind is possible.
Is your property not receiving the attention it deserves? Are you tired of overpaying for subpar service? First Green Landscaping provides the best value for professional lawn care and landscaping services in the Cincinnati / Northern Kentucky area. No property is too big or too small for First Green Landscaping.
Contact us (859-292‐8556) today for a free consultation!
—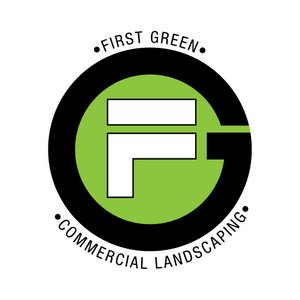 About First Green Commercial Landscaping
First Green Commercial Landscaping is a locally owned leading provider of lawn care and landscaping services in the Cincinnati / Northern Kentucky area. We provide superior customer service and strive to build long term business relationships with our clients.
Lawn Care
Landscape Maintenance
Snow Removal
>> Learn More