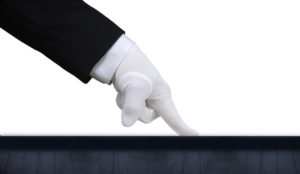 Maybe you have an in-house team that cleans your facilities and you are too busy to walk behind them to see if they are doing a good job. Maybe you have a professional cleaner that is cutting corners on their way to their next client. Below are 10 of the top places we discover that in-house cleaning teams and mediocre professional cleaners miss…
Behind Printers and Copy Machines
The high performance copiers and printers leave behind a lot of tiny particles that accumulate over time. The machines are large and  it can be a bit of a pain to move them, so those spaces can get overlooked pretty easy.
Baseboards/Back Splashes
To check you can run your finger on top of baseboards and counter top back splashes to see if they are clean or not. Dust and grime can accumulate quickly and end up in your HVAC system which will create a back indoor air environment.
Vents
When heating systems are in constant use they attract dust, allergens and other particles to stick to the heating vents and cold air exchange intakes on walls, ceilings, floors and especially in bathrooms and kitchens.
Ceiling tiles
Acoustic ceiling tiles have a rough texture that loves to collecting dust especially the tiles near vents.
Ceiling Fan Blades
Dust and particles in the air stick to fan blades like glue. Not only does it look bad, it's spreads this dust and particles as far as it can throw them.
Light fixtures
Bugs love to end their lives on and near fluorescent light fixtures! Light fixtures on walls and desks also accumulate a lot of dust.
Walls
Textured or Wallpapered walls collect the most dust but you'd be amazed how much dust you can find on walls behind open doors and in less traveled areas of you office or facility.
Steps
The corners of stairways and stairwells attract dust, salt, and debris brought in on the shoes of your employees, vendors, and customers.
Switch plates and Door Knobs
These are illness spreading mistakes waiting to happen. es are possible no matter the time of year. Everyone is touching these areas so they need to be cleaned regularly.  Contamination of just one single doorknob can spread germs to an entire office within hours.
Upholstery
Pull out a chair or couch cushion and look at the top and bottom. Notice a difference? If a chair has its back to a wall, pull it out and compare the unseen side with the used side. Upholstery needs a scheduled steam cleaning at least a couple times a year.
Our cleaning staff is committed to providing quality, customized professional cleaning services. We also use green cleaning products and practices in all of our services. There isn't a job too big or too small for us to handle. Whether you're looking for a high-rise warehouse cleaning or weekly office cleaning, we are here to tackle the task with unparalleled skill and professionalism.
Contact us (859-292‐8556) today for a free consultation!
—
Why First Green Cleaning Services?
Customized Cleaning Plans – What sets First Green Building Services apart is our attention to detail. We understandthat different businesses have different needs. For years, First Green Building Services has been providing janitorial services for educational facilities, schools, and colleges. Over the years we have provided K-12 Public School Cleaning,  K-12 Private School Cleaning, Technical School Cleaning, and College Cleaning
Owned and Operated Locally – With direct owner involvement, we provide immediate response time to any situation you might incur. Even after business hours, First Green Building Services has a 24-hour customer service number to resolve any cleaning issue.
Quality Control – First Green Building Services has a low cleaner to supervisor ratio which allows us to make sure your facility gets the attention and detailed cleaning that it deserves.